Project Management for Front Liners
October 9 & 10, 2021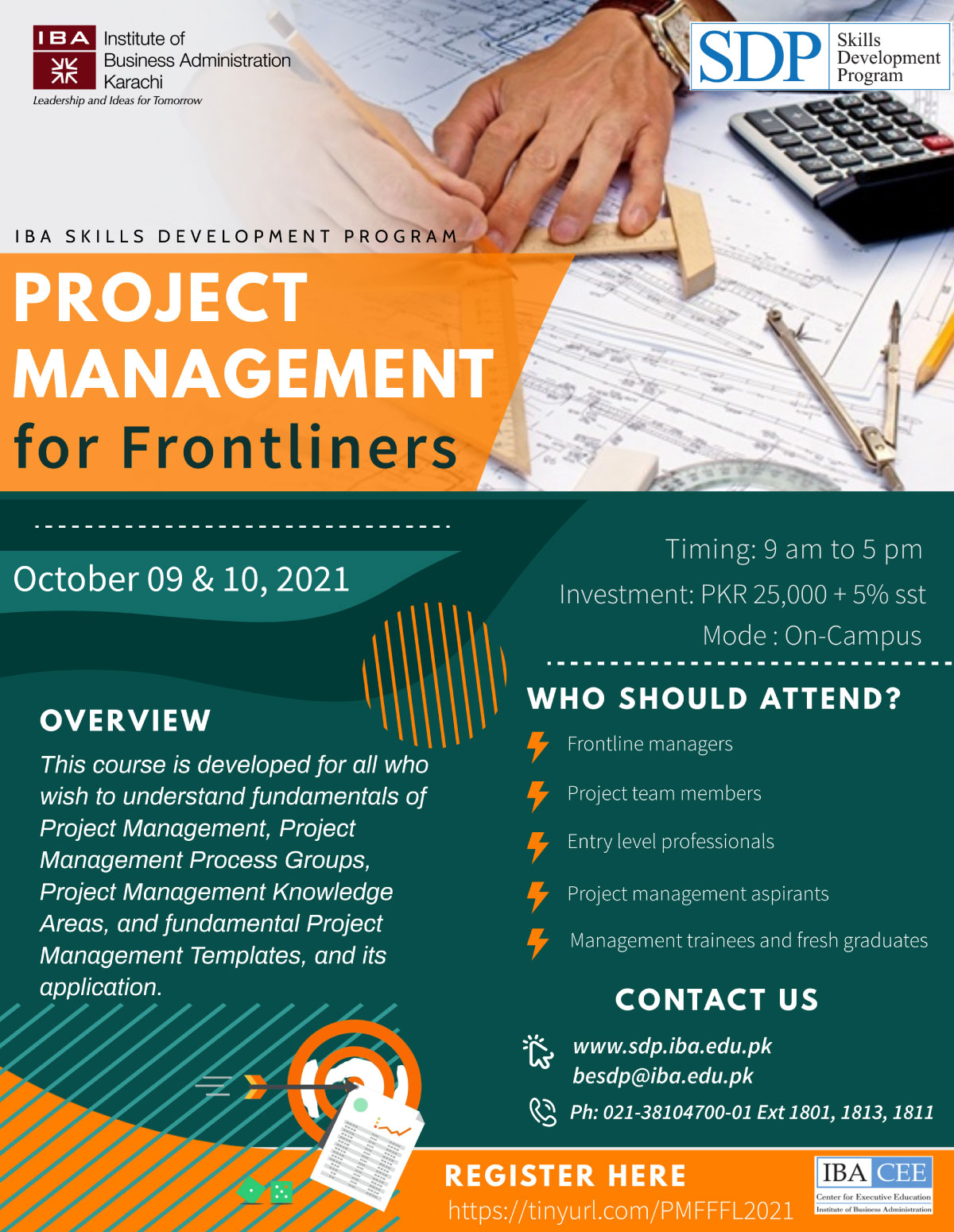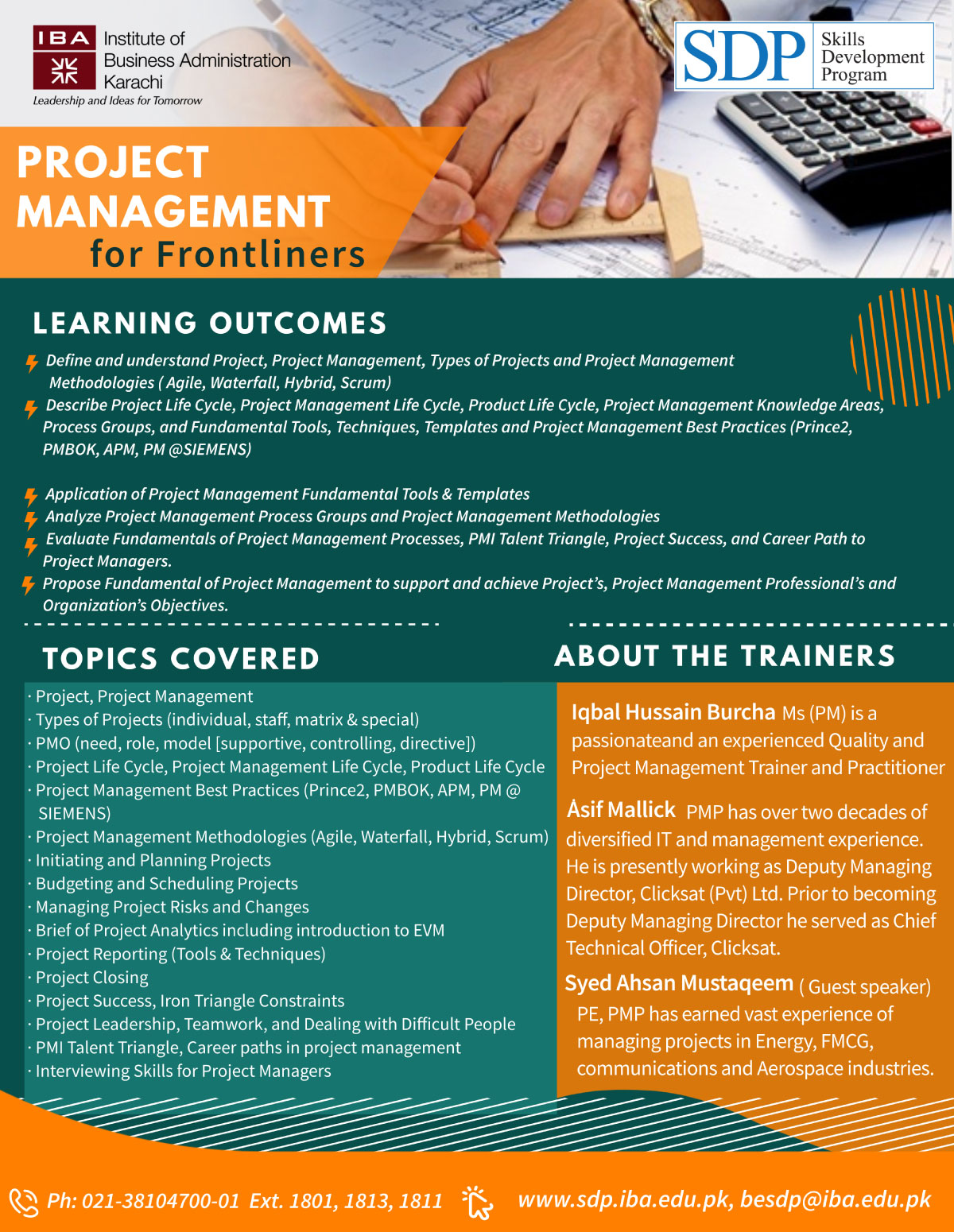 Asif Mallick
Mr. Mallick has over two decades of diversified IT and management experience. He is presently working as Deputy Managing Director, Clicksat (Pvt) Ltd. Prior to becoming Deputy Managing Director he served as Chief Technical Officer, Clicksat. He previously served as General Manager MIS & Billing at REDtone Telecommunication, Senior Solution Consultant at Perfect Solutions (Pvt) Ltd, Country IT Manager at e-pay Pakistan and Head of Billing & Head of Calling Cards Technical Operations at Callmate Telips Telecom Ltd. He holds an executive MBA from IBA and Bachelor of Computer Science (BCS) from FAST-NUCES Karachi. He has accomplished credentials of Brand Management from London Business School. He also earned various certification including Project Management Professional (PMP), IBM Enterprise Design Thinking Co-Creator, Integrating Voice & Data Networks form Karachi University
Syed Ahsan Mustaqeem
PE, PMP has earned vast experience of managing projects in Energy, FMCG, communications and Aerospace industries. A Mechanical Engineer by profession, he holds an MBA Degree from Institute of Business Administration Karachi with distinction, MS Degree in Mechanical Engineering from National University of Science and Technology Pakistan with distinction and BE Degree in Mechanical Engineering from NED University Karachi with distinction. Three books and many research publications are to his credit and he is among the reviewers of many global standards including PMBOK®, Standard for Program Management, Standard for Organizational Project Management and Standard for Business Analysis etc. He is the recipient of several national and international honors and awards including PMI Youngest Project Manager Award 2018 and IGA Fellowship 2015.
Iqbal Hussain Burcha
is a passionate and an experienced Quality and Project Management Trainer and Practitioner. He has over 10 years of diversified experience in FMCG, Service Industry and Academia. He has also served as Manager Quality at Unilever Pakistan Ltd. Hilal Foods Pvt Ltd, KBS World, SATS and NGOs on different roles. He is M.Phil. Project Management from SZABIST Karachi, M. Sc FST and B.Sc. (Hon) FST from KU. He has conducted trainings on Project Management Tools & Techniques, Project Quality Management, Project Scope Management, Quality Management System, Food Safety Management System, GMP, GHP, HACCP, FFZ, CRQS (In-Pack, On-Pack, In-use, Make), On Shelf Quality, T5Z, DDP, SDP, IC GMP, QVP, GQFWS, RCA, LDP and Lean Tools in different domains and also advised Projects to achieve Project Objectives and Organizational Goals
09:30-10:00
Introduction of Course and Trainer, Trainer's Objective
10:00-10:30
Learner's Introduction, Learner's Objective, Learner's Challenges, Course Brief
10:30-11:00
Project, Project Vs Operations
Project, Program and Portfolio
11:00-11:30
Break
11:30-12:30
Types of Projects (individual, staff, matrix & special)
PMO (need, role, model [supportive, controlling, directive])
12:30-01:00
Project Life Cycle, Project Management Life Cycle, Product Life Cycle
01:00-02:00
Break
02:00-02:00
Project Management Best Practices (Prince2, PMBOK, APM, PM @ SIEMENS)
02:00-02:30
Project Management Methodologies (Agile, Waterfall, Hybrid, Scrum)
02:30-03:30
Initiating and Planning Projects
1. Identify the key characteristics of a project
2. Identify primary project constraints
3. Define the role and responsibilities of the project manager
4. Identify Project Organizational Structures
5. Understand the definition of a Project Stakeholder
6. Identify project stakeholders
6a. Stakeholder interest & influence/power
7. Identify information needs of the project stakeholders
8. Define responsibility for managing stakeholder and controlling stakeholder engagement
8a. Stakeholder Register
9. Define the purpose of using a project charter
10. Summarize the key elements of a project plan
11. Identify common sources of conflict within a project environment

03:30-04:00
Break
04:00-05:30
Budgeting and Scheduling Projects
1. Identify the resource needs of the project
2. WBS (Work Breakdown Structure) - Decompose work packages into activities
3. Define what is needed to estimate activity durations
4. Define milestones and create a milestone schedule
5a. Network Diagram
5. Determine the critical path and calculate float
6. Describe the purpose of using leads and lags in a project schedule
7. Estimate the quantities and costs of resources required to perform project activities
7a. Project Scheduling Tools & Techniques.
7b. Brief of MS Project or intro of Primavera
8. Select one of three common cost estimating techniques to determine a project budget
9. Use a responsibility assignment matrix to assign responsibilities
10. Recognize the components of a project's quality management plan

Day Two
09:30-:10:30
Recapitulation (Day 1)
10:00-11:00
Managing Project Risks and Changes
1. Define components of a communications management plan
2. Understand the importance of communications channels
2a. Identify 5Ws (Why, What, When, Where, Who)
3. Define the key elements needed to measure and report on project scope, schedule, and cost performance
4. Identify project risk events
5. Prioritize identified risks
6. Develop responses for a high priority risk
7. Identify and analyze changes to project scope
8. Describe causes and effects of project changes
9. Define the purpose of conducting a lessons learned session
11:00-11:30
Break
11:30-12:30
Brief of Project Analytics including introduction to EVM
12:30-01:00
Project Reporting (Tools & Techniques)
01:00-02:00
Break
02:30-02:30
Project Closing
1. Project handover strategy
2. Project Procurement Closing
3. Project Closing Documentations
4. Lesson Learned
02:00-02:30
Project Success, Iron Triangle Constraints
02:30-03:00
Project Leadership, Teamwork, and Dealing with Difficult People
03:00-03:30
PMI Talent Triangle, Career paths in project management
03:30-04:00
Interviewing Skills for Project Managers
04:00-04:30
Summary of the course & assessment
04:30-05:00
Closing Session
DON'T MISS THIS OPPORTUNITY!

PAYMENT DETAILS
Payment can be made via Pay Order in favor of "IBA Karachi" (Pay Order will be received at IBA City Campus from 9 am to 4 pm).
Please follow the COVID-19 SOP while visiting campus Or deposit the cash/online transfer in the following MBL Account:
Account Title: IBA Karachi | A/c Number: 9911-0101960067
Bank Name: Meezan Bank Limited | Branch: Jubilee Market Branch
Branch Code: 9911 | SWIFT Code: MEZNPKKA
IBAN # PK 43 MEZN 00 9911 0101960067
Branch License # : BRL 21250