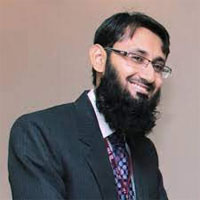 Farhan Uddin Raja is a Ph.D. Scholar and highly accomplished & renowned Corporate Trainer with an extensive work experience of 12 years. He carries a wide ranging experience of 09 years with IBA- Karachi as a corporate trainer. He has conducted customized trainings for Pakistan Atomic Energy Commission, Bank Al Habib, Pakistan Petroleum Limited-Asia, Standard Chartered Bank, Interactive research and Development, House of Habib, National Bank of Pakistan, AdamjeeLife, Khairullah Paper & Board Works (Pvt) Ltd., Sindh Workers Welfare Board, 1Link, PRCL and SeeSam Solutions (Pvt) Ltd. In the last 12 years, Farhan has been associated with University of Karachi, Karachi Institute of Economics & Technology, Institute of Business Administration-Karachi, Institute of Business Administration -Sukkur, Institute of Business Management, SZABIST-Karachi, Bahria University as an academician.
Having shouldered responsibilities from being an academician to a lead corporate trainer at IBA-Karachi, he brings a wealth of experience which reinforces his skills to impact and connect with the audiences. Farhan has trained more than 3,000 participants across different levels starting from Front Line Executives to Senior Management and he has conducted more than 100 trainings for open enrollment programs and customized training programs.
Farhan's deep perspective, yet astounding simplicity leave an everlasting impact on the participants as well as the ones who get to know him. He is a Man of Passion and Purpose, is high spirited and has a never ending approach towards innovation.
He has also contributed in prominent publications both nationally and internally such as, Humanities & Social Sciences Reviews, Journal of Educational Sciences & Research, International Journal of Disaster Recovery and Business Continuity, Journal of Social Sciences and Media Studies, Journal of education and educational development, Pakistan Business Review, Journal of Research (Humanities), Journal of Social Sciences & Humanities, GCOER 21 Global conference of educational research, SZABIST, International Conference on Experiential Learning- IOBM, International Conference on Theoretical and Applied Linguistics- LUAMWS, National conference on Language and Literature-IELL, and International Conference of ELT- SPELT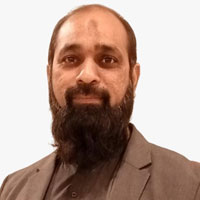 Syed Sajid Siraj
Syed Muhammad Sajid Siraj is a Ph.D. fellow. He holds a Master's Degree in English Linguistics. He is a member of the Cambridge English Teacher forum & keeps adding to his portfolio by participating in internationally offered courses.
He is also been a Corporate Trainer with the International Group of Hotels in Saudi Arabia, Pakistan International Airline, and Deloitte International. Mr. Siraj has presented talks at different institutions and platforms.
He has presented papers at various national and international conferences. He has conducted numerous workshops on teachers' training at renowned organizations. He's a CELTA (Certificate in English Language Teaching to Adults) certified from the University of Cambridge and ESP (English for Specific Purposes) from Aga Khan University.
He has worked for several years for an international organization in Saudi Arabia, Middle East, and Thailand. He has worked in the capacity of the in-house trainer as well.
He has been associated with CEE as a corporate trainer since the Year 2016. He conducts training on Business Communication, Presentation Skills, Interpersonal Skills, Business English, etc. He has also conducted CEE's customized training for Pakistan Petroleum Limited, Standard Chartered Bank, National Bank of Pakistan, Interactive Research and Development (IRD Global), 1LINK, & Adamjee Life, etc.