Primarily this course aims to provide an in-depth appreciation and understanding of the unique challenges inherent in managing and delivering quality services.
The objective of this course is to familiarize the applicants with the basic concepts of marketing, its scope and application in the corporate arena specifically in banks. Concepts of brand equity, marketing management and customer relationship management are discussed in detail.
Also, information on developing the marketing mix, distribution of products and logistics management is covered. Primarily his course aims to provide an in-depth appreciation and understanding of the unique challenges inherent in managing and delivering quality services.
After the successful completion of this course, participants will be able to:
+ Have knowledge and understanding of:
Marketing, its philosophy and significance
The 4P'sProduct, Price, Place and Promotion
Concept of Services Marketing
Emerging trends and challenges of global markets
Social and ethical issues in marketing.
Marketing Ethics for Islamic Financial Services
+ Be able to understand the scope of and develop effective marketing strategies and programs for financial services
+ Be well versed with the concept of brand equity and brand management
+ Be able to effectively utilize the concepts of CRM for mar- keting success
+ Have working knowledge of Marketing Research concepts, its application and importance
+ Have thorough understanding and knowledge of the fol- lowing:
Citizens and public action to regulate marketing
Business action towards socially responsible marketing
Principles of public policy towards marketing
PEMRA Rules and Polices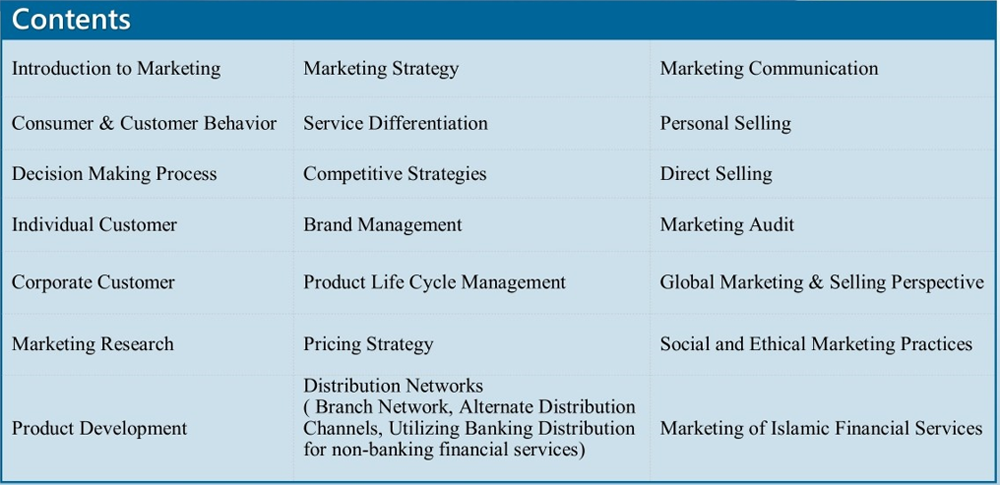 Faraz Younus Bandukda
Chief Executive at Fortune Islamic Services Pvt. Ltd. & Adjunct Faculty at leading business schools.
Faraz Younus Bandukda, an entrepreneurial evangelist, is currently the Chief Executive at AI Hilal Shariah Advisors (Pvt.) Limited, provid- ing Islamic Business support services in the field of trade, finance, ha- IaaI certification and wealth management. Faraz has remained on the board of directors of various organisations including Fortune Invest- ments (PVT.) Limited, Fortune Solutions (PVT.) Limited and Pakistan Synthetics Limited.
He has done his Masters in business administration from Institute of Business Administration (IBA), Karachi and holds a bachelor's degree in computer science from FAST-NU. He is also a CFA level III candi- date from the CFA Institute, USA and has an Islamic finance certifica- tion from Centre for Islamic Economics (CIE), a division of Jamia Dar ul Uloom, Karachi.
At the Center for Executive Education IBA, Faraz conducts corporate training on the topics of Marketing Financial Services, Finance Boot Camp & Use of MS Excel in Finance. He has been part of training program with Sindh Engro Coal Mining Corporation (SECMC).
This course is specifically designed for sales and marketing officers who are tasked to develop, market and sell financial products and services.
Discount: 10% for 2 or more participants & 15% for 5 or more participants from the same organization
For queries & registrations:
Email: besdp@iba.edu.pk
Tel: 021-38104700-01 Ext. 1801, 1813, 1811, 1541
Website: https://sdp.iba.edu.pk/
IBA Skills Development Program
Center for Executive Education
Institute of Business Administration
Garden/ Kayani Shaheed Road, KARACHI-74400